Raul Villarreal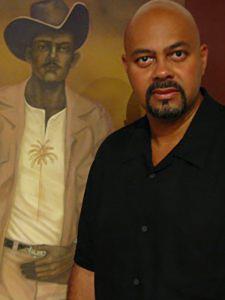 Puros Villarreal: Montero, 2008
Archival digital print on canvas, artist's proof, 42" x 34"
Raul Villarreal is a visual artist living and working in Verona, New Jersey. He was born in San Francisco de Paula, Havana, Cuba in 1964. Villarreal migrated with his family to Madrid, Spain in 1972, and two years later the family moved to the United States, settling in Hudson County, New Jersey.
Villarreal has a Bachelor of Fine Arts in Graphic Design and Illustration. In 2005, he obtained a Master of Fine Arts Degree from New Jersey City University, with a concentration in painting and printmaking. He has participated in 15 solo exhibits and over 150 collective exhibits in the United States, and abroad. He has lectured numerous times on his work and Postcolonial theories, and participated in several art conferences. Villarreal served on the advisory board of the Center for Latino Arts and Culture at Rutgers University.
Most recently, Villarreal finished collaborating with his father, René Villarreal on a book project. Hemingway's Cuban Son, a manuscript based on his father's 20 year friendship in Havana, Cuba, with the famous American author will be published by The Kent State University Press at the end of 2008.
Art Work