Yanet Baldares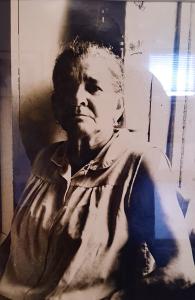 Untitled, n.d.
Photographic print, b/w, 12" x 8"
Yanet Baldares is a sociologist living in Highmount, New York.
Born in Costa Rica, Yanet Baldares completed a bachelor's degree in education and psychology at the University of Costa Rica in 1964. In 1965, she immigrated to the United States and worked as a factory laborer in the Greater New York area. She then obtained a job as a laboratory technician at a university hospital and decided to pursue higher education.
Baldares became a student at Rutgers in the late 1970s and early 80s, where she obtained her B.A. and M.A. in Political Sociology. She then worked as a community organizers and social worker in a University affiliated health center in New Brunswick. In 1987, Baldares completed her doctoral dissertation in Sociology at Rutgers University, focusing on culture, class and political consciousness among Latinos residing in New Brunswick.
From 1987 through 2003, Baldares served as assistant instructor in the Rutgers University Department of Puerto Rican and Hispanic Caribbean Studies (now Latino and Caribbean Studies). She played a role in the Hispanic, Iberian, and Latino Alliance at Rutgers (HILAR), which produce a report with recommendations for the Rutgers University Senate, Equal Opportunity Committee on the status of Hispanic and Latinos among the faculty and administrators.