William J Grant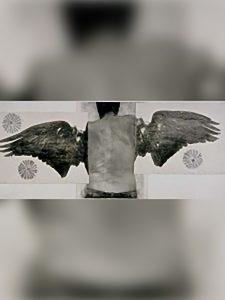 Untitled, n.d.
Print, 30" x 40"
William Grant is a painter, sculptor and educator born in Michigan in 1948 and raised in Coney Island, Brooklyn, New York. He is a member of the Sault Ste. Marie Tribe of Chippewa Indians.
Grant's training began at the School of Visual Arts in New York City, where he studied design, painting, sculpture and printmaking. He continued his studies at Pratt Institute in Brooklyn, New York where he studied architectural design. He obtained an Associate in Arts in 1994 at the Institute of the American Indian Art in New Mexico, a BFA in advertising and design in 1995 from the School of Visual Arts and a MFA in Studio Arts in 1998 from Rutgers University. Grant served as museum educator at the Smithsonian Institution National Museum of the American Indian in New York and as instructor at Livingston College, Rutgers University in 2003. He attained a doctorate in Arts Education at Columbia University in 2007.
Grant has exhibited his work at the Brooklyn Museum, the American Indian Community House Gallery in New York, PS-1 Gallery in Long Island City, the PBS- Channel 13 premiere of Great Performances: American Indian Dance Company, the New York City Theater Work Shop, the 843 Gallery in Brooklyn, and the American Indian Community House Gallery in New York City. He has also shown his work at the Augusta Savage Gallery at University of Massachusetts, the Flushing Council on the Arts, and the Institute of American Indian Art Museum Santa Fe, New Mexico. In 2004, his work was part of an exhibition entitled Transcultural New Jersey: "Crosscurrents in the Mainstream" at the Jane Voorhees Zimmerli Art Museum, Rutgers University, New Brunswick.
Art Work