Silvia Teresa Flota Reyes
Silvia Teresa Flota Reyes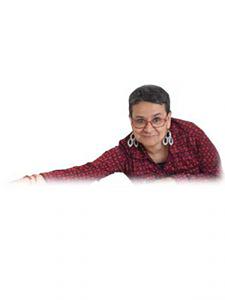 Cerberus, 1996
Deckled edge paper, 43" x 30"
This is a lithography with monotype, with which its author, allegorically, tries to represent a vital force
that faces the horror of a violent reality. On the top of a mountain range, a pregnant woman stands with open arms becoming the cross that crowns the central peak as a symbol of deep faith and human hope. Over her, th e sky is painted with blood and the sun is black, and in the hollow, in the foreground, the Cerberus [in Greek mythology, the three- headed hound from Hades] howls evil and the death of the soul.
Born in Coyoacán, Mexico city in 1965, Silvia Teresa Flota Reyes is a visual and plastic artist licensed by the School of Painting, Sculpture and Engraving "La Esmeralda" ENPEG / INBA. Flota Reyes has worked as a teacher at the University of the Arts belonging to the Cultural Institute of Aguascalientes. She is currently a candidate for teaching in Arts and Design at the Autonomous University of Mexico (UNAM).
Her professional activity begins when she participated in the Stimulus for Young Creators sponsored by INBA, SEP and CREA, which allowed her to create her first exhibition at the Siqueiros Cultural Poliforum. Since then and to date, she has participated in twenty individual and group exhibitions in different galleries and cultural centers of Mexico City, Aguascalientes and Zacatecas. Sixteen of her works are part of the collection of the Escárcega Museum (MUSE) in Aguascalientes. Flota Reyes was a FONCA intern at the Tri-National Art Exchange Program and in 1996 participated in a residency at the Rutgers Center for Innovative Print & Paper (RCIPP), the current Brodsky Center, where she had the pleasure of doing projects collaborating with the printers Lynne Allen and Eileen Foti.
Art Work