Luis Cruz Azaceta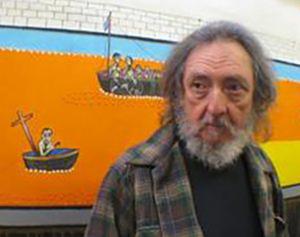 La Travesía (The Crossing), 1992
Lithograph, 29.5" x 41.25"
The Crossing is a richly symbolic image depicting a crossing that is, in effect, more typical of modern times. The work depicts a man fleeing his native country in a tiny boat. Alone in a vast and colorful sea, the figure represents all voyagers who have made dangerous crossings in the hope of finding freedom. With the stars to guide him, he goes forth in his quest to reach an unknown land.
Luis Cruz Azaceta works were cartoon-like images rendered in bright, flat pigment with black outlines. Recent acrylics exhibit thick, multi-colored layers of paint, the images almost carved in relief. The figures portrayed are tormented in some way: pierced by nails, eviscerated, flagellated, or decapitated. Many are self-portraits, though the artist is not so much portraying himself as using his own image to represent everyone.
Luis Cruz Azaceta, (b. 1942, Havana, Cuba) came to the United States in 1960 and studied at the School of Visual Arts in New York. He has taught at the University of California, Louisiana State University, and Cooper Union, New York. His work has been exhibited nationwide, including the Frumkin Gallery in Chicago and New York; the Caymen Gallery, New York; the Museum of Contemporary Hispanic Art, New York; and the Chrysler Museum, Norfolk. His work is in the permanent collection of leading museums, including the Metropolitan Museum of Art, New York; the Museum of Fine Arts, Boston; and the Virginia Museum of Fine Arts, Richmond.
Art Work