Juan Sanchez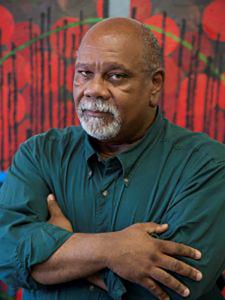 Printed Convictions, 1995
Print on Paper, 32" x 24"
Sanchez combines painting and photography with other media clippings and found objects to confront America's political policies and social practices concerning his parents' homeland of Puerto Rico. Sanchez often specifically addresses Puerto Rico's battle for independence and the numerous obstacles facing disadvantaged Puerto Ricans in America.
Juan Sanchez has received many awards for his work, including a John Simon Guggenheim Foundation Fellowship, a fellowship from the National Endowment for the Arts, a Lifetime Achievement Award from the National Hispanic Academy of Media Arts and Sciences and the Pollack/Krasner Award. His 1997 IP work, Sol y Flores para Liora, won a Grand Prize at the XII Bienal de San Juan del Grabado Latinoamericano y Del Caribe in 1998. Other work by Sanchez is included in the collections of the Metropolitan Museum of Art, El Museo del Barrio in New York, the Museum of Modern Art in New York, and El Instituto de Cultura Puertorriqueña in San Juan.
Juan Sanchez earned his BFA from Cooper Union in 1977 and his MFA from the Mason Gross painting at Hunter College in New York City. He is professor of Art, Painting, Photography and Combined Media at Hunter College.
Art Work