Gloria Rodriguez Calero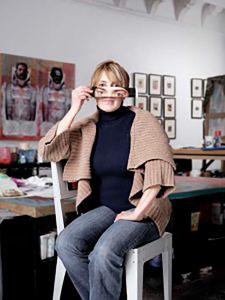 Ex Voto, 2000

Lithograph with chine colle, gold leaf, Iris print and embossing, 22" x 30"

 

 
The imagery in this work evokes a range of symbolic themes, and employs a new vocabulary of classical and urban origin. The empowerment of the spiritual and emotional evolves from the act of their own creation and defines a distinctive quality. Complex currents and modes of artistic expression result in a rich visual interplay that characterize the multicultural composition and conjure a unique, signature style.
Gloria Rodriguez Calero (ROCA) was born in Puerto Rico, raised in New York, and for the past 20 years she has worked and resided in New Jersey. She first studied graphics at the Institute of Culture's, School of Fine Arts, in Puerto Rico with Master Printer, Lorenzo Homar and continued her studies at the Art Students League of New York where her main focus was in painting and collage under the tutelage of Master Artist, Leo Manso.
She has received numerous awards and honors, and is a recipient of fellowships from the New Jersey State Council on the Arts, Geraldine R. Dodge Foundation and the New York Foundation for the Arts. She has been given residencies by the New York State Council on the Arts and the National Endowment for the Arts. She has exhibited in galleries and museums across the nation and the Caribbean. Her works are in many private and public collections.
Art Work