Felipe Ujpan Mendoza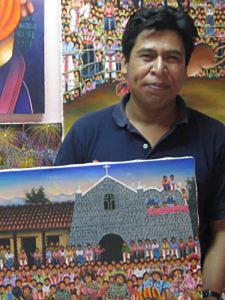 Indigena guatemalteco en Rutgers, 2007
Oil on canvas, 28" x 22"
Felipe Ujpan Mendoza is an internationally known Guatemalan artist residing in the Tz'utujil Maya town of San Juan La Laguna. Working mostly with oil on canvas, Ujpan has been at the forefront of his generation of San Juan painters, developing his unique art-naif style of painting. Over the years, his work has ventured into a variety of themes and styles.
Ujpan has been very active working with youth in his community. Volunteering his time, he frequently goes to local schools to work with small groups of schoolchildren to teach them how to paint.
In 2007, Ujpan traveled to New Jersey for an exhibition entitled Mayan Arte Naif, curated by Rutgers alumn Richard Morgan and produced by the Center for Latino Arts and Culture at Rutgers University.
This was the first U.S. exhibition to feature the collective work of contemporary Mayan artists from San Juan La Laguna of Lake Atitlan, located in the Central Highlands of Guatemala. The exhibition featured 20 original oil paintings by artists Felipe Ujpan, Antonio Coché Mendoza, Diego Isaías Hernández, Angelina Quic Ixtamer, Antonio Vásquez Yojcom, and Catarina Méndez Pantzay.
As part of the exhibition, Guatemalan artist Felipe Ujpan Mendoza participated in a two-week residency program that included public talks, demonstrations, and workshops. The work in the Center's collection, Indígena guatemalteco en Rutgers, was produced as part of this residency program.
Art Work