Felipe Galindo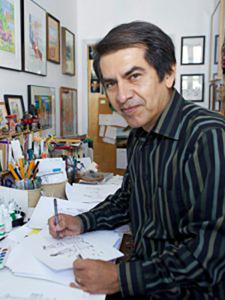 Day of the Dead in Manhatitlan, n.d.
Color lithograph, 13.5" x 10.25"
Felipe Galindo creates humorous art in a variety of media, including cartoons, illustrations, animations, fine art & public art. Born in Cuernavaca, Mexico, he now resides in New York City.
He has exhibited and published his work worldwide in publications that include The New Yorker, The New York Times, NACLA, Newsday, amNY, Mad, Nickelodeon, Reader's Digest, Narrative, Crain's, INXart.com, The Wall Street Journal, Advertising Age, Princeton Alumni Weekly, The Progressive, Barron's, The National Law Journal, POZ, Time Magazine's Almanac for Kids, Scholastic, Children's Television Workshop, Creative Classroom, TV411. His work has also appeared in a number of international publications, including The International Herald Tribune (France), La Jornada, Nexos, Hoja por Hoja (Mexico), Red Bulletin (Austria); Hauser (Germany), Nebelspalter (Switzerland), Prospect, Oldie, Private Eye, The Spectator (England), and Ode (Holland).
Galindo is the recipient of grant awards from the Lower Manhattan Cultural Council, the Northern Manhattan Arts Alliance, and the Puffin Foundation. He is recipient of numerous recognitions and prizes, including the 2011 People's Prize at the Knnoke-Heist Humor Festivali (Belgium); the 2011 International Latino Book Award for Best Art Book for Manhattitlan; the 2012 Second Prize, The United Nations Correspondents Association/Ranan Lurie; the 2012 Second Prize, XIV Porto Cartoon Festival (Portugal); the 2014 Special Mention at the XIX Zagreb International Cartoon Competition; and the 2016 Success Award XXXIII Aydın Doğan Cartoon Competition (Istanbul).
Galindo is arts educator at the School of Visual Arts Community Word Project and Teachers College's Say Yes to Education.
Art Work