Catalina Parra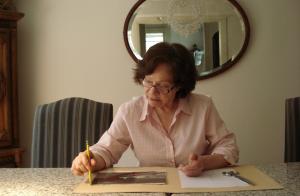 Untitled, n.d.
Lithograph, collé and sewing, 40" x 29"
Born in Chile in 1940, Catalina Parra is a political artist, educator, and intellectual whose career now spans five decades. Parra accumulated her education from multiple sources along her extensive art career. Beginning in Germany, she was influenced by the Fluxus artistic movement and postmodernist ideals of John Cage, Joseph Beuys, and George Maciunas, who were making art in response to social movements of the 1960s.
During the 1970s, Parra drew on her participation in the European Fluxus movement to respond to the political oppression and censure during the Pinochet dictatorship in Chile. She incorporated Chilean mythology of the Mapuche indigenous people into her artistic methodology through collages and installations that commented on the oppressive conditions of indigenous people as well as the violence of the Pinochet dictatorship.
Solo exhibitions include Museum of Modern Art, New York (1981); Intar Gallery, New York (1991); Lehman College Art Gallery, New York (1991); and It's Indisputable at the Jersey City Museum, New Jersey (2001). Recent exhibitions include Subversive Practices, Art under Conditions of Political Repression, 60s–80s / South America / Europe at Württembergischer Kunstverein, Stuttgart, and II Trienal de San Juan, Puerto Rico (both 2009).
She currently lives in New York.
Art Work