Amalia Mesa-Bains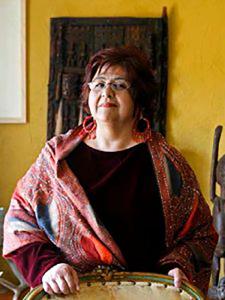 Private Landscapes, Public Territories, 1997
Lithograph with chine colle, 10.75" x 59"
Amalia Mesa-Bains is an artist, educator and cultural critic. Her artworks, primarily interpretations of traditional Chicano altars, resonate both in contemporary formal terms and in their ties to her Chicano community and history. She has exhibited widely including Los Angeles County Museum of Art, the Whitney Museum of American Art at Phillip Morris, Museo del Barrio, National Museum of Art, National Museum of Art at the Smithsonian, San Francisco Museum of Modern Art and others. She has pioneered the documentation and interpretation of Chicano traditions in Mexican-American art and is a leader in the field of community arts and education.
Among her many awards is the distinguished MacArthur Fellowship. She is Professor Emerita in the Visual and Public Art department at California State University at Monterey Bay.
In this work, the themes of family geographies and historical displacements of Latino and native peoples are represented through border maps, archival images and native plants. The narratives of human geography help us to see that our private landscapes have always been part of larger public territories beset by histories of change, loss and memory.
Art Work