Bibiana Suárez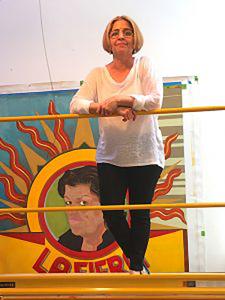 Untitled, 1994

Lithograph, with handmade paper chine-collé and metallic ink, 29.5" x 32"

 

 
Bibiana Suárez is Professor of Art in the Department of Art, Media and Design at DePaul University (Chicago). Suárez was born and raised in Puerto Rico, but has resided in Chicago since 1980. She has a BFA (1984) and a n MFA (1989) in painting and drawing from the School of the Art Institute of Chicago.
Suárez has exhibited extensively in the United States as well as in Puerto Rico and Mexico, including solo exhibitions at the Hyde Park Art Center, Chicago; El Museo del Barrio, New York; Illinois Arts Gallery, Chicago; Sazama Gallery, Chicago; Taller Puertorriqueño, Philadelphia; and Sazama Gallery (1991) and A Grafito at the Art Students league in San Juan, Puerto Rico.
Suárez has also been the recipient of several awards including three Illinois Arts Council Individual Visual Artist Fellowship Awards (1991, 1994, 1999), an Arts Midwest/NEA Regional Visual Arts Fellowship (1992) and was the inaugural recipient of the Center for the Study of Race, Politics and Culture's (University of Chicago) Artist in Residence Fellowship in 2003-2004. Most recently, Suárez was a faculty fellow at the Center for Latino Research (DePaul University) in autumn 2011.
Art Work